Using the Ceramiflo system, which is a ceramic membrane system to filter your pool water, will help you achieve purer water, improved pool operation and reduced running costs compared to sand, glass or pre-coated filter systems.
Purer water. The Ceramiflo system can consistently filter out 85% of all particles down to 3 microns compared to 5-7 microns for traditional systems. The Ceramiflo system automatically backwashes with no staff intervention required. Consequently, there is much less biological and chemical active pollution held on the filter which, compared to traditional filters, can be held for up to a week (or a month on some regenerative filters).
Improved pool operation. All Ceramiflo systems are fully automated and remotely monitored, so no on-site intervention is required. The water quality and chemical levels in the system are also constantly monitored. Should any problem occur, the system will send an alarm by SMS or e-mail, and we may be able to carry out remedial action remotely. Back wash of the system is also fully automatic.
Reduced running costs. The Ceramiflo systems typically use 10 litres of water per bather compared to the normal 30 litres, which will give you a reduced cost in water usage. Backwashing is fundamentally different from traditional filters as the ceramic membranes are first blown through with pressurised air and then rinsed for only a few seconds. Each filter element only uses up to 75 litres of water per backwash. This reduces the amount of water used and the amount of heat lost through backwashing, leading to significant water, chemical and energy savings.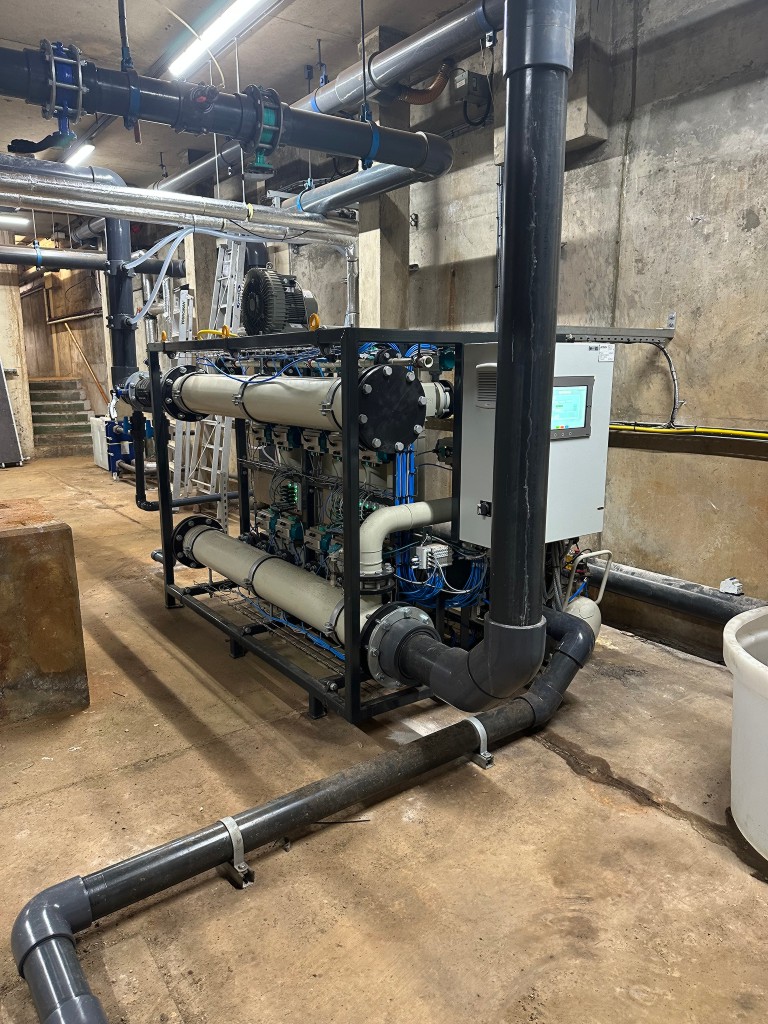 Ceramiflo filters are very compact, requiring only 30% of the footprint of traditional sand filters and a ceiling height of 2.0 metres. A much smaller balance tank is required as the system has frequent small backwashes and there is also no need to store backwash water prior to discharge to drain. This reduces the build cost for new pool installations and Ceramiflo filters are easy to retrofit to existing pools as they are supplied in a modular form which can fit through a standard plant room door. Our video shows the small corridor through which the whole Ceramiflo system was installed.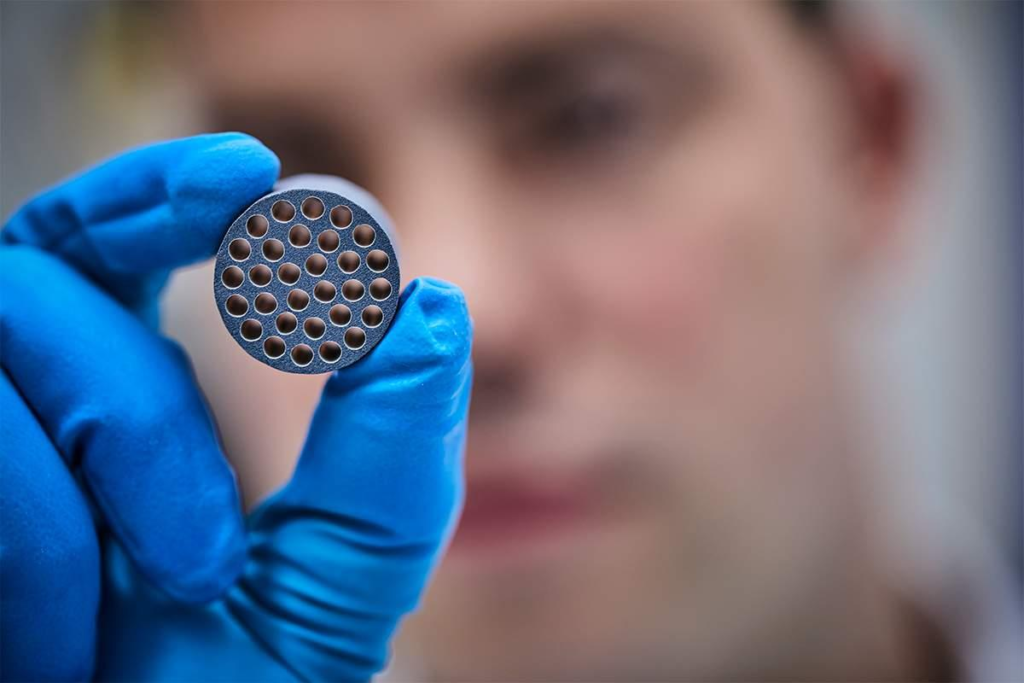 Ceramic membrane filters are manufactured in Denmark.
Total Pool hold the licence for distribution in the UK under the brand name Ceramiflo. Total Pool have enhanced the Danish system :
Auto degreasing of membranes
Cleaning chemicals are purchased by client but no handling is required
SILICON CARBIDE MEMBRANES
Virtually Indestructible
Resistant to all acids
Resistant to all alkalis
Resistant to heat
Can always be re-fired if grossly contaminated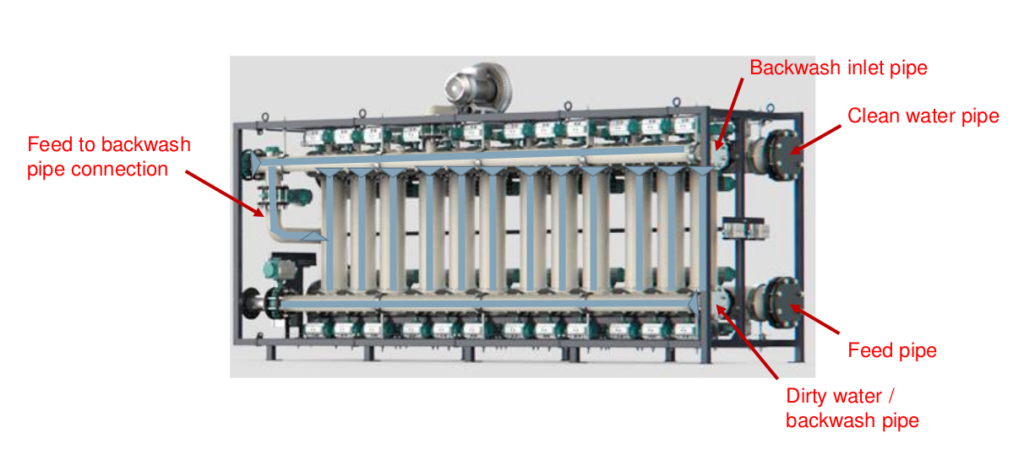 75 L water / membrane / backwash
Resets the TMP (transmembrane pressure → less power consumption)
Automatic TMP limits for initiating BW
WHAT DO OUR CUSTOMERS SAY?
'Since we installed the Ceramiflo filters the water has been absolutely sparkling. Also, we have dramatically reduced both the water usage and chemical usage.
Because the units are fully automatic there is no need for staff to back wash the filters after bathing for the day has been completed saving overtime'
Nathaniel Davis, manager of Pontardawe leisure centre

'The ceramic filtration system is a breath of fresh air compared to traditional systems.
It's 3 main benefits for me are the energy saving it gives us which helps to reduce our carbon footprint which is a big area of focus for Warner leisure, its reduction in labour hours that are normally required with the backwashing and maintenance etc, and the water quality is second to none – crystal clear'
Steve Hinton Leisure Manager, Alvaston Hall Hotel & Spa
We have a number of case studies that you can download, please tick one or more of the boxes below :